Consumer data on top service traits by remodeling job type. Plus a list of 100 remodeling and home improvement companies who are Satisfaction Leaders.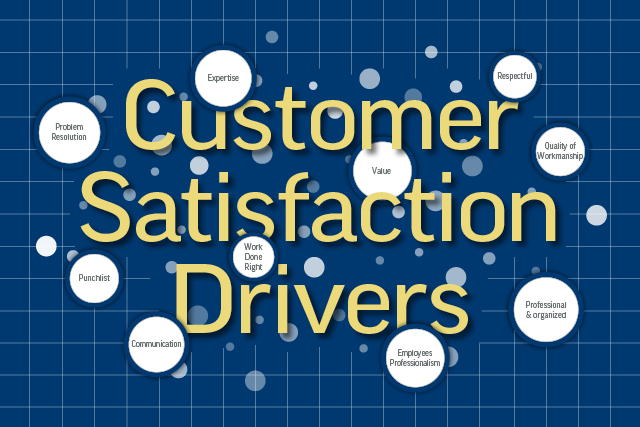 Satisfying your customers is Job No. 1. At a basic level, it's about caring. It's about delivering quality services and products. It's who you are as a person and more importantly, it's who you are as a company.
But Customer Satisfaction is also a data-driven business discipline. It's about developing repeatable systems and processes in your company, so satisfaction happens every day, all the time. Your reputation and future referral flow depends on it.
That is why each year Qualified Remodeler teams up with GuildQuality, a leading customer satisfaction measurement company, to produce the QR -GuildQuality: Customer Satisfaction Report.
The report is comprised of two parts. The first is a visual HEAT MAP that correlates 19 service traits with many types of home improvement and remodeling jobs. The second is a searchable list of company profiles—100 remodeling and home improvement companies who are Satisfaction Leaders.
The HEAT MAP of service traits and jobs is represented by a number that looks like a hitter's batting average. The closer that number is to 1.0, the more highly correlated that trait is to a customers overall satisfaction with a particular type of project.
For example, keeping a jobsite "Clean" has a .73 correlation with customer satisfaction for an "Exterior Remodel" but only a .35 correlation with a "Room Addition" project.
You might be asking, how does GuildQuality possibly know this? The answer: They survey over 100,000 consumers each year. And they are not just any consumers. All are interviewed just after they've completed a remodeling or home improvement project. And all of that data is aggregated and analyzed by job type. QR editors curate this information for our report.
Use This Data to Focus on High-Gain Activities
The HEAT MAP section of this report is shown in a series of charts. There are six charts in all. The first is an overall look at all 19 service traits across all types of jobs. Then there are five charts that get granular on Exterior Remodels, Interior Remodels, Major Renovations, Outdoor Living and a catch-all group of Other projects.
In prior years of issuing this report, remodelers and home improvement pros have told us how important this report has been in identifying focal points in their interactions with clients. They use it to hone-in on how best to deliver on those key service traits that drive client satisfaction. The data allows them to confidently delve deeply on service issues as they develop strategies for customer satisfaction success.
HEAT MAP: Top Overall Service Traits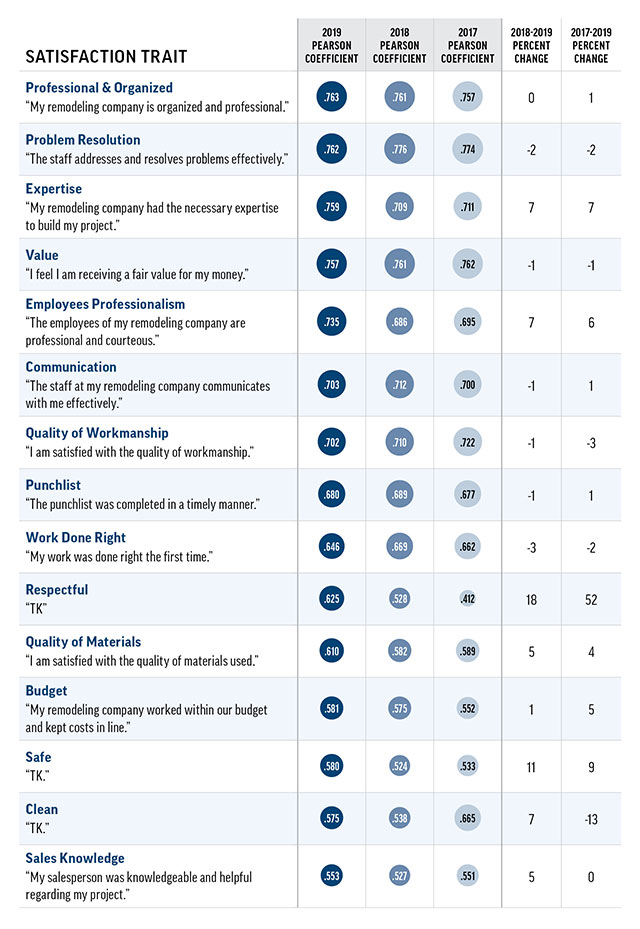 The importance of employees being seen as "Respectful" has grown dramatically over the past few years. The top traits overall remain "Professional & Organized", "Problem Resolution", "Expertise", and "Value".
Source: QR-GUILD QUALITY Customer Satisfaction Report, 2020.
HEAT MAP: Top Traits "Exterior Remodels"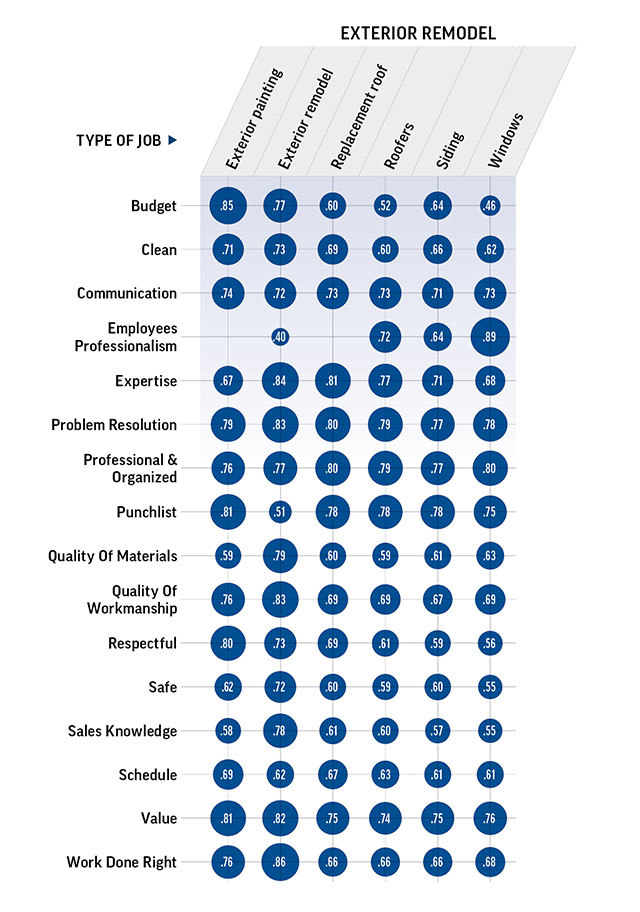 Roofing, siding, windows and other exterior upgrades offer a wide range of key service traits. With neighbors looking on, a "Clean" jobsite is a must. So also is the sense that a homeowner is getting "Value" from the transaction.
Source: QR-GUILD QUALITY Customer Satisfaction Report, 2020.
HEAT MAP: Top Traits "Interior Remodels"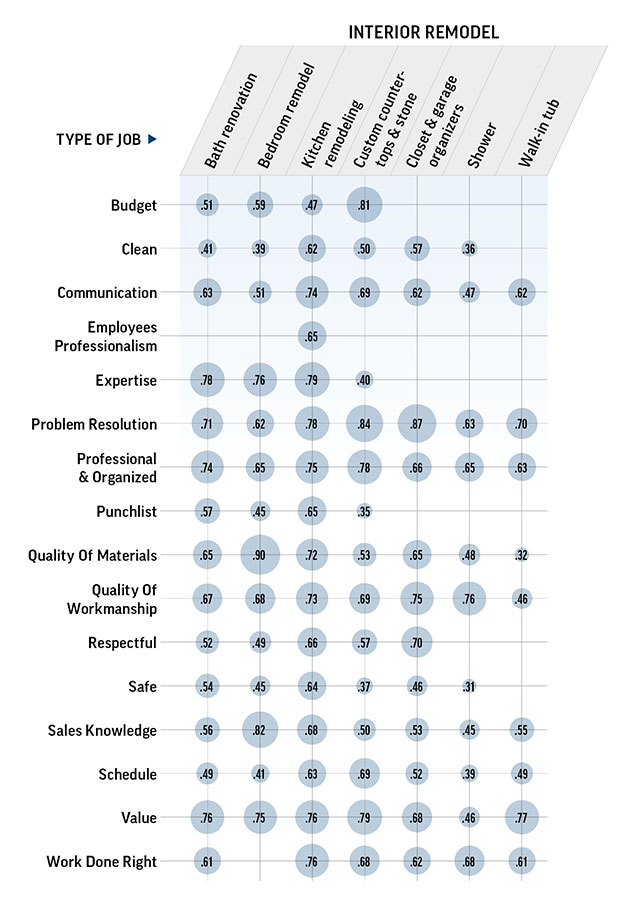 HEAT MAP: Top Traits "Interior Remodels"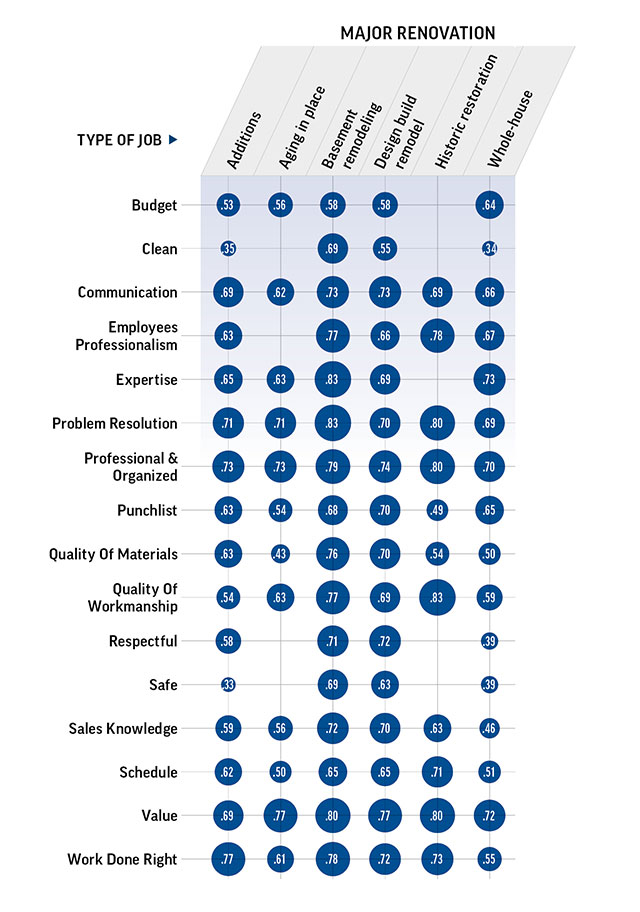 HEAT MAP: Top Traits "Outdoor Living"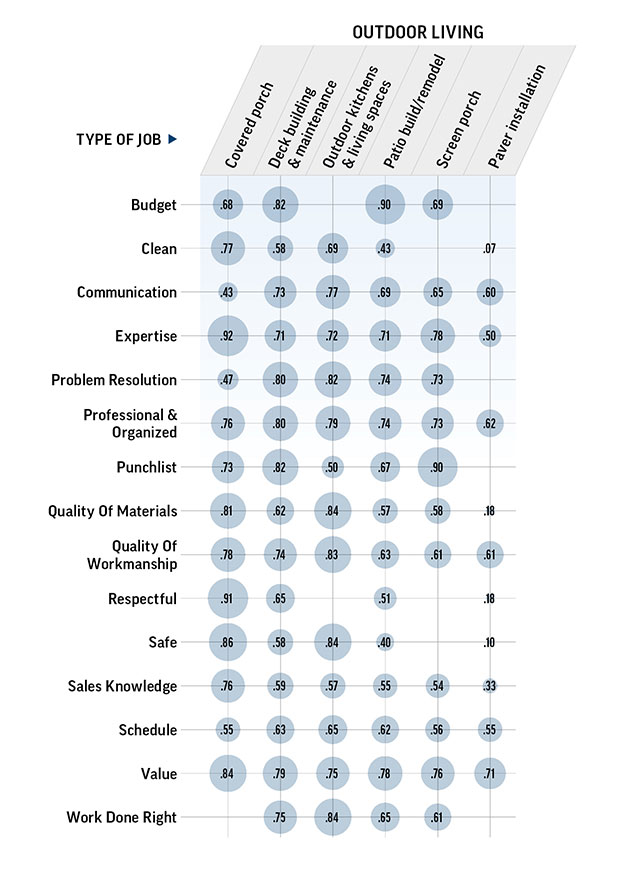 HEAT MAP: Top Traits "Other Projects"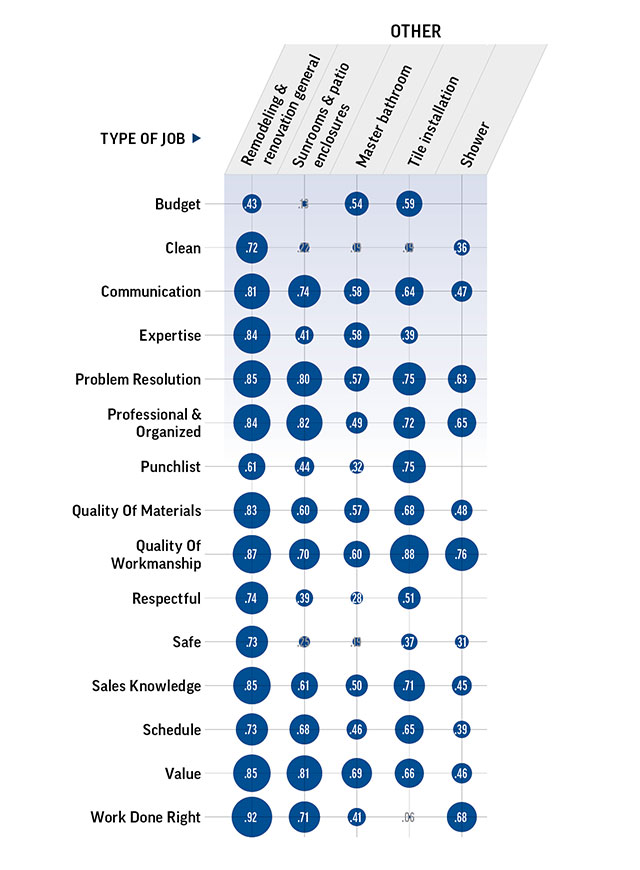 Morris Builders, Inc.
Rockford, MI
www.morrisbuildersinc.com
GQ All-time Recommend Rate: 93.56
GQ 2019 Recommend Rate: 100
Number of Jobs in 2019: 47
Type of Firm: Design/Build|Full-service Remodeler
CEO: Kirk Morris
The COVID-19 pandemic changed homeowner interactions. What measures do you use to signal an extra level of care when working in or around a client's home?
We follow the industry standard COVID19 Response plan assuring the least amount of client contact with our team and vendors. Each team member fills out a daily site survey exposure sheet to determine if they have any symptoms and their temperature is taken prior to entering a work site. Work surfaces are sanitized multiple times throughout the day. If a client, employee or vendor is showing cold or flu-like symptoms, we may suspend work on the project until we are in agreement that there is no risk to the client, worker and vendors.
Seamless communication technology is now both necessary and expected. How have you used new technology platforms to promote better customer communication and satisfaction?
We updated our website and social media to let current and potential clients know that we were ready to meet with them virtually using a combination of video conferencing tools, cell phones and software to provide an entirely virtual consultation to line up new projects and still service projects in the works, while still maintaining proper social distancing. We had increased volume during this time and having the ability to connect virtual was crucial in securing business.
What was your message to clients with projects in progress in order to keep them happy and satisfied during the uncertainty of the stay-at-home period?
We checked in with our clients on a regular basis via email, phone call or virtual meetings. We updated them on any new information as far as re-opening the Construction industry in Michigan. We kept them informed of any material delays for the project due to COVID19 and we assured them of our safety precautions once authorized to resume business.